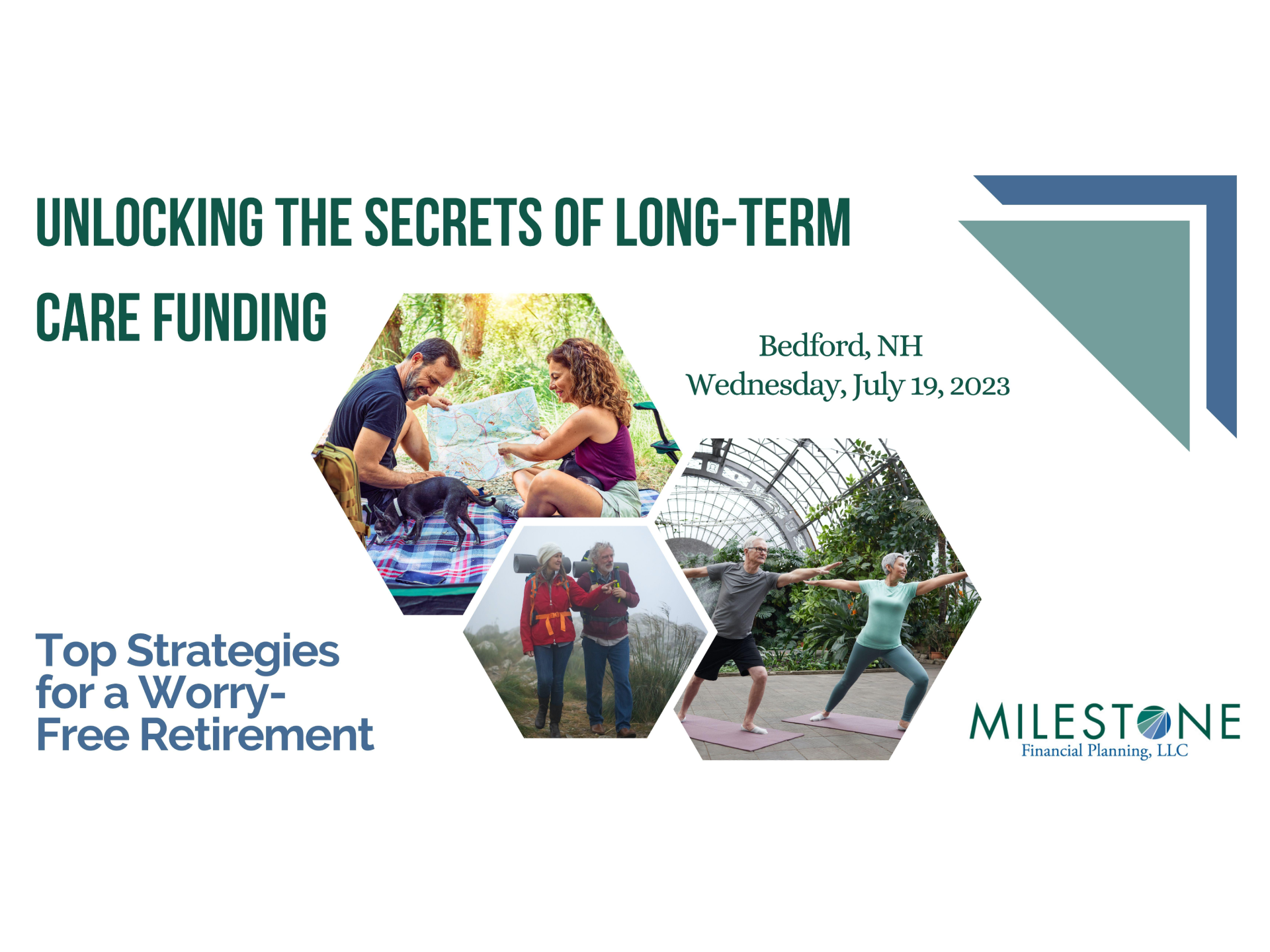 Wondering what your options are for long-term care and how to pay for it?  
What is a Continuing Care Retirement Community (CCRC), and is that for you?  
Consider attending Unlocking the Secrets of Long-Term Care Funding: Top Strategies for a Worry-Free Retirement in Bedford, NH, on Wednesday, July 19, 2023, at 12 pm, presented by Jennifer Climo, CEO and Senior Advisor of Milestone Financial Planning, LLC. This seminar goes beyond CCRCs and long-term care insurance.
Milestone is presenting an in-person seminar about long-term care planning choices and how to pay for them. If you are local to our area and would like to attend, we would love to see you there!! Seating is limited so we encourage you to complete your registration early.
If you are interested in attending this free event, please complete a registration form by clicking the link below. Please feel free to forward this invitation to friends or others who may be interested. Details of the event will be sent to you upon registration.
Who should attend: Individuals and couples with net worth of $1M – $10M who are concerned about their long-term care choices and how to fund them.
Questions about this event can be emailed to events@milestonefinancialplanning.com.
Register Here: Unlocking the Secrets of Long-Term Care Funding Tickets, Wed, Jul 19, 2023 at 12:00 PM | Eventbrite 
Disclaimer/Author(s) Bio: This is not to be considered investment, tax, or financial advice. Please review your personal situation with your tax and/or financial advisor. Milestone Financial Planning, LLC, (Milestone), a fee-only financial planning firm and registered investment advisor in Bedford, NH. Milestone works with clients on a long-term, ongoing basis. Our fees are based on the assets that we manage and may include an annual financial planning subscription fee. Clients receive financial planning, tax planning, retirement planning, and investment management services, and have unlimited access to our advisors. We receive no commissions or referral fees. We put our client's interests first.  If you need assistance with your investments or financial planning, please reach out to one of our fee-only advisors.  Advisory services are only offered to clients or prospective clients where Milestone and its representatives are properly licensed or exempt from licensure.
Sign up below to receive blog updates.
Related articles